Chalk Land is a land where everyone can visit even Spot.
Trace E. Doodles
is the ruler of Chalk Land. Someone might visit anytime. This land has a sun smiling, sunflowers, chalk-drawn flowers and lollipop flowers, and clouds made out of pink cotton candy. This place is really cute. It's first appearance was in Spot Draws the Line.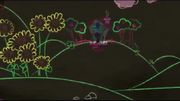 This also includes a chalk house where Trace E. lives with flowers and red fences. This path of chalk leads to her house.
Ad blocker interference detected!
Wikia is a free-to-use site that makes money from advertising. We have a modified experience for viewers using ad blockers

Wikia is not accessible if you've made further modifications. Remove the custom ad blocker rule(s) and the page will load as expected.